On Saturday, Oct 6th from 1:00 to 6:00 pm, Mohanlal Sukhadia University's College of Social Science & Humanities & RGP 2018 will host the world's first interdisciplinary seminar on Gavari culture.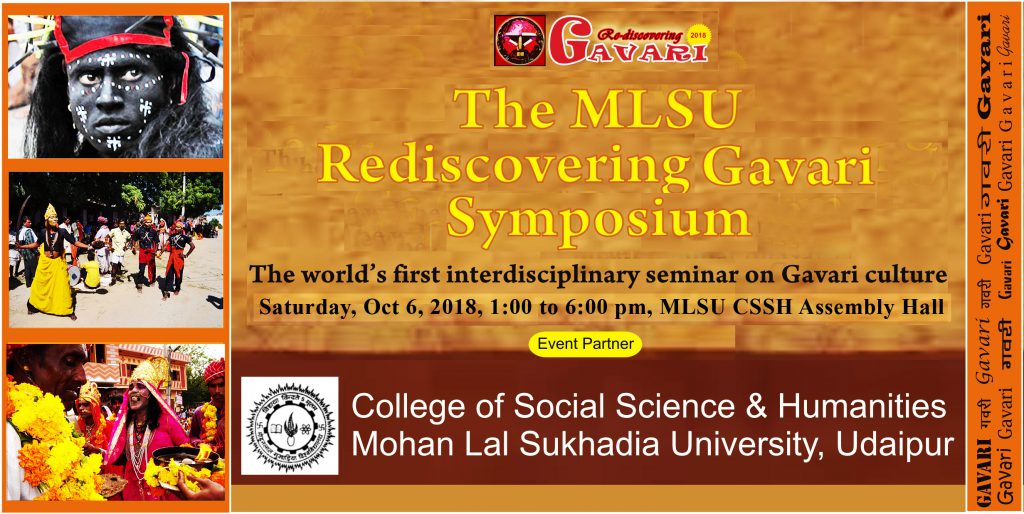 This unprecedented event will feature a broad array of authoritative (and entertaining!) voices as well as original Gavari photography & mixed media creations from senior students at the UCSSH Art Department.
---
MISSION & OBJECTIVES
Examine Gavari as a theatrical microcosm of tribal artistry and indigenous values from
eco-spirituality & female empowerment to egalitarian politics & environmental defense.
---
Everyone interested in any of these topics and/or cultural history, creative
artistry, tribal sociology, oral traditions, human rights, local autonomy,
ICH, sustainable development, etc. is welcome to attend.
---
SCHEDULE
1:00 ??? 1:15 ??? Inaugural Welcome Session ??? MLSU Humanities Faculty representatives
1:15 ??? 2:45 ??? Session I (20 min presentations)
Gavari, Goddess Spirituality & Women???s Empowerment ??? Aditi Ghosh Mehta, IAS (Retd)


– previous posts: Ajmer Collector; Raj adt Chief Secretary for social justice & empowerment; Director, WZCC

Gavari???s Lessons for Creative Performing Arts ??? Sri Bhanu Bharti


– award winning playwright, director and dramaturgical innovator

Gavari as a Sacred, Social and Political Ritual ??? Dr. Shail Choyal


– internationally acclaimed painter, former Director, MLSU Art Dept, CEO, P.N. Choyal Memorial Trust

Gavari, Adivasi Values and Ecological Spirituality ??? Dr. Velaram Ghogra


??? ex-CEO, Indian Confederation of Indigenous & Tribal Peoples; former Adivasi rep to the UN Human Rights Commission, Geneva
2:45 ??? 3:15 ??? Tea Break & Viewing of MLSU UCSSH art students??? Gavari-related creations
3:15 ??? 5:45 ???Session II (20 min presentations)
Gavari and Mewar Cultural History ??? Dr. Pratibha


– eminent cultural historian & author; Director, MLSU History Dept

Gavari as an Artistic Inspiration ??? Dr. Basant Kashyap


– celebrated installation art innovator, former HOD of Painting at Meera Girls College

Gavari and Environmental Consciousness ??? Sri Shyam Sundar Paliwal


– initiator of the famed Piplantri project; aka the "Father of Eco-feminism", Mbr Rajasthan Wildlife Board & Panchayat Raj Parishad

Gavari and Ecological Ethics ??? Dr. Satya Prakash Mehra


– eco-defense lawyer, founder/advisor, Rajputana Society of Natural History; CEO, Shri Vardhman Kanya Mahavidyalaya, Ajmer

Gavari and the Imagination of Tribal Youth ??? Sri Jagdish Gameti & Sri Amit Gameti


– co-founded the Gavari Drama Group & have taken Gavari artistry all across India including to the National School of Drama
Short Segments (10 min presentations)
Gavari Documentation ??? Sri Harish Agneya

, CEO, Tuneer Films, Gavari author & videographer

Gavari and Intangible Cultural Heritage

??? Sri Lokesh Paliwal, UNESCO West India ICH correspondent

Gavari???s Implications for Localization & Globalization

??? Mr. W. David Kubiak, RGP researcher/publicist
5:50 to 6:00 ??? Closing ceremony ??? MLSU representatives